We, as Topgear Tuning would now like to offer you the opportunity to join us and enjoy a successful and profitable relationship as part of our partnership programme.
Remapping is a growth market driven by increasing consumer demand and recognition of published gains for both engine performance and fuel economy. The potential for remapping business is huge; in the UK alone there are over 33 million vehicles on the road that cover a combined 311 billion miles each year. So, there are a lot of drivers out there who would no doubt be delighted with the performance and economy benefits you, as an authorised Topgear Tuning partner, could provide.
---
Click on the topics below to find out more information: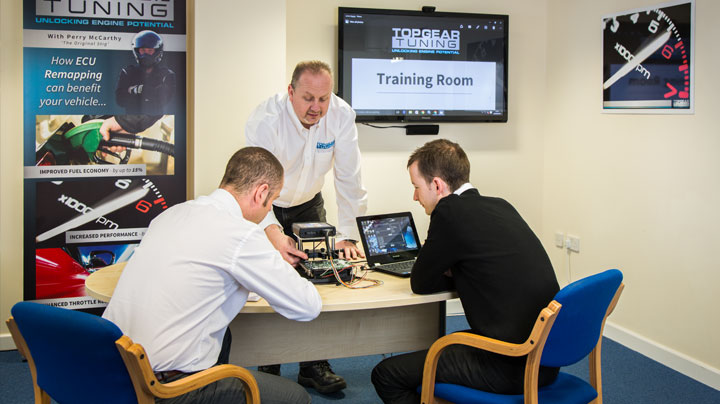 Understanding you

Topgear Tuning only looks for experienced motor trade professionals to join our team but we don't require you to be familiar with the process of remapping. We can offer a low cost entry into the tuning business that can grow with both your own efforts and a broad spectrum of support from us. Initially, we'll talk with you to understand if we are right for you and if you are right for us. That's pretty important because we aim for a long-term and mutually successful relationship. Assuming we progress from there, we can provide you with business package options tailored to suite your needs.
Tools for the job

Alientech is both a leading designer and manufacturer of ECU programming tools who supply a range of products suitable for OBD and Bench tuning requirements. Topgear Tuning is one of Alientech's principle dealers. Once you have decided to go ahead with us, we can normally have you up and running within a week and we'll start by providing the specialist tuning tools you'll need, at a very special price and minimum software update subscription. These exceptional tuning tools already cover a range of over 6,000 different vehicles and are being continually developed. For more information visit our shop www.alientechuk.co.uk
Technical Training

We have a huge amount of technical experience and know-how and we train our dealers (either on-site or at our head office) how to use Alientech products to programme vehicles via the OBD socket and, how to identify, open and programme ECU's on the bench. The operation process is straightforward, normally one hour, and our technicians will show you (and offer future support) how our software can guide you all the way from the initial vehicle identification, on to reading the ECU file.
Files

Once you have read the ECU of the vehicle you are tuning, you'll then be in further contact with our file writing department who will supply you with any one of our map services as requested. This is the core of our business, we can remap over 6000 different engines and, at over 20,000 files successfully written and supplied to date, we are proud to say we are very good at providing a quality solution for you and your customers. Topgear Tuning has a number of price competitive, file purchase options, to suit both your entry and your growth within the remapping and tuning business. Preferential file rates available, we will be delighted to discuss which package is best for you.
Marketing

Topgear Tuning can boast a unique and unrivalled marketing initiative, created to draw huge attention to the remapping industry and help steer potential customers directly to you. We have an active marketing program across multiple platforms to create sustained brand exposure. This generates high visitor levels, to our content-led web site, where our advanced search engines react to specific enquiries for vehicle performance/economy gains data; and our 'dealer locator' produces hundreds of business leads straight to our network weekly. For on-the-ground marketing, we have a range eye-catching point of sale material letting your customers know you are a Topgear Tuning Authorised Dealer.
Account and Support

We are not in the business of making empty promises and we are not here to sign our network partners only to disappoint them later. However, we are in the business of providing service and support to you from our accounts team, relationship managers, technical trainers, file writers and marketing department. If you grow, we grow. We set high standards and we live up to them. Topgear Tuning has a Formula One mentality; precision, teamwork and performance. Join our network and by working with you we'll do all we can to make your remapping business competitive and rewarding.
---
ECU Remapping Videos
For an introduction to ECU Remapping, take a look at the selection of videos below demonstrating both reading and writing of files using Kess V2 and KTAG.